Religious Education Gold Quality Mark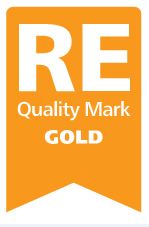 We are thrilled and proud to announce that Banister Primary School have achieved the Religious Education Gold Quality Mark. Making us the first primary school in Southampton and Hampshire to do so and we are also the first non-denominational school in the south to achieve gold! We know that RE is a powerful contribution to our curriculum as it provides the chance for our students to explore big ideas as well as what matters in the children's own lives. RE is a great way to support the children's SMSC as well as giving them the chance to explore their own and others beliefs, values and the ways of living that are important to them.
The RE quality mark recognises high-quality RE and has awarded us their highest level: Gold! They looked at the learning, teaching, curriculum and leadership of the subject and have said themselves how impressed they were with Banister's provision of the subject. This achievement of the REQM award would not have been possible if not for the incredible children we have at Banister, who have a strong appetite for learning about others and developing themselves. Banister is privileged to have so many unique and diverse children.
RE is at the heart of the school and this award reflects the enthusiasm of the teachers, and the knowledge and love for the subject of the children. As the RE leader, I am so proud of this achievement as I feel this school and our students deserve the recognition of the inclusivity they show and share each day. I ask you to celebrate our school's achievement and be proud of the students that walk through the halls of our incredible school.
Miss Brodigan