Young Gentleman's Project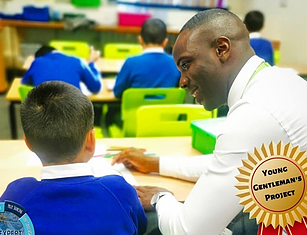 We are fortunate to be involved in the Young Gentleman's Project (YGP) in conjunction with the Standing Ovation project. Founded by Anthony Daulphin in 2016, Standing Ovation is a creative arts organisation which works with schools to raise the self-esteem and confidence of children through the creative arts and pastoral support.
A group of our Year 5 boys are our first cohort of "Young Gentlemen". The boys are working with Anthony covering areas such as:
Discussions about our strengths, weaknesses and positive traits.
Interactive workshops on social responsibility, family, community and conduct in school.
The qualities of a young leader and role model.
Our young gentlemen work towards earning their YGP tie and badge and are awarded a certificate at a Young Gentleman's award ceremony when they get the opportunity to meet other young gentlemen who have participated in other parts of the UK.